Building Your Financial Dream Team
The Key Experts You Need
When it comes to financial health and managing your assets, much like with your physical health, assembling the right team of experts can make all the difference in achieving your financial goals. Each member brings unique skills and insights to the table, helping you navigate the complex world of finances with confidence. Let's explore the essential experts you need on your financial dream team.
Certified Financial Planner (CFP): Guiding You Through Life's Transitions
A Certified Financial Planner (CFP) is like a compass for your financial journey. They assess your current financial situation, help you set realistic goals, and craft a comprehensive roadmap to get you there. Whether you're planning for retirement, saving for your child's education, or buying a home, a CFP acts as a financial coach, providing personalized strategies to maximize your wealth and minimize risks.
Investment Advisor: Achieve Your Long-Term Financial Goals by Growing and Protecting Your Wealth
An investment advisor is your partner in growing your wealth. They analyze your risk tolerance, financial goals, and timeline to create an investment portfolio tailored to your needs. From stocks and bonds to real estate and alternative investments, they guide your decisions to ensure a balanced and diversified portfolio that works toward long-term gains.
Tax Advisor: It's Not Only What You Earn, It's What You Get to Keep
Taxes can be a maze of regulations, deductions, and obligations. A skilled tax advisor helps you optimize your tax strategy, ensuring you're not paying more than necessary while staying compliant with the law. They're updated on the latest tax codes, helping you identify potential savings and investments that align with your financial goals.
Enrolled Agent (EA) or Certified Public Accountant (CPA): Business Finances Made Simple
And if you're a business owner, an EA or CPA is an indispensable asset. They manage your business's financial records, handle tax filings, and ensure compliance with accounting standards. With their expertise, you can focus on growing your business while knowing your financial matters are in capable hands.
Estate Planning Attorney: Leave a Legacy That Lasts for Lifetimes
Thinking about what happens to your assets after you're gone might not be pleasant, but it's crucial. An estate planning attorney helps you draft wills, trusts, and other legal documents that ensure your wishes are honored. They navigate the complex legal landscape, minimizing potential tax burdens and ensuring a smooth transition of assets to your beneficiaries.
Insurance Specialist: Shield Your Finances from the Unexpected
Life is full of uncertainties, and that's where an insurance specialist comes in. They evaluate your risk exposure and recommend insurance policies that protect you, your family, and your assets. Whether it's health, life, home, or disability insurance, their expertise ensures you have the right coverage to safeguard your financial well-being.
Retirement Specialist: Build a Comfortable Future
Dreaming of a stress-free retirement? A retirement specialist helps turn that dream into reality. They analyze your current savings, estimate future expenses, and devise a plan that ensures your golden years are financially secure. From Social Security optimization to pension guidance, they help you make the most of your retirement income sources.
In conclusion, building your financial dream team is not just about the numbers – it's about partnering with experts who understand your goals and tailor strategies to achieve them. Each member of your team brings a unique perspective and skill set, collectively working to secure your financial future. Remember, financial success is a journey, and with the right team by your side, you're well-equipped to navigate any challenge that comes your way.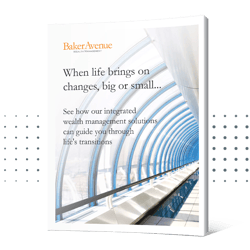 To learn more about the full suite of services that our dream team can provide, view our eBooklet or contact BakerAvenue. We can help you protect your finances and prepare for your future.